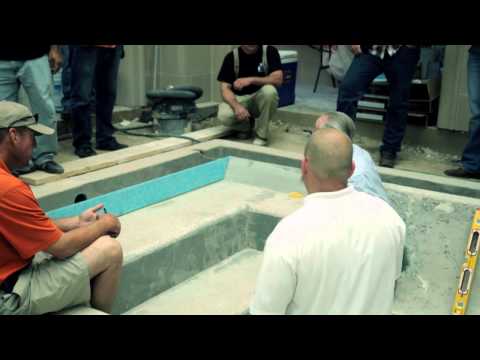 Play Day With Laticrete Products,
Laticrete International products
There are many words that come to mind as I think back on the events that transpired during Play Day with Laticrete Products. I'll mention but three that will truly put things into perspective for those of you who missed out on this gathering of the greats : enlightening, inspiring and ground-breaking. Never before have I witnessed a hands-on workshop in such a grand setting, or filled with such skilled and knowledgeable experts who were so sincere in their passion to pass on their formula to a successful pool project. This orchestrated seminar was well-executed, led by pool design visionary Doug Johnston of Stonecrest Pools as well as master of mosaic glass tile Jimmy Reed of Rock Solid Tile, Inc. Never a dull moment, the atmosphere was that of a classroom found within a prestigious university, where those who were there to teach and those who were there to learn were all driven individuals with a true love for their craft, swimming pools. Though many aspects and elements of swimming pool building was discussed, the focal point was glass tile installation using Laticrete International products. While there, I soon learned why it was a play-day with Laticrete and not just any company, and that's because the various Laticrete products used on this magnificent project were unbelievably impressive to see in action. It was also a pleasure to have Laticrete's technical services manager, Mark Brooks, in attendance, who was also present to discuss and advise participants of information pertaining to the different products, which showed that Laticrete not only stands by their products but also values those who use their materials. The duo was truly dynamic, both Jimmy Reed and Doug Johnston had so much vital info and key techniques they shared, discussing in detail each crucial step necessary in a successful glass tile installation. I won't divulge too much too soon, enjoy the video for now and stay tuned because the full video tutorial is coming soon!
For more on Laticrete International & their products CLICK HERE!
Welcome to the Pool & Spa industry, revolutionized!
 https://www.facebook.com/watertv
 Produced By: Artistic Visual Studios
  http://www.artisticvisualstudios.com